Last modified
by MammaMia -
6 years
ago
266 Views
3 min read
Was this information helpful?
WP App Studio allows creating and displaying of user defined WordPress custom fields in your view, form, widget and relationship layouts. Custom fields a quick way to allow users to extend your app's data model.
Last modified
by -
7 years
ago
532 Views
1 min read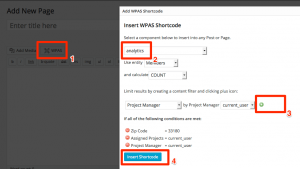 Was this information helpful?
Analytics module allows filtering entity attributes, taxonomies and relationships to calculate statistics and displaying the result in any page using a shortcode.